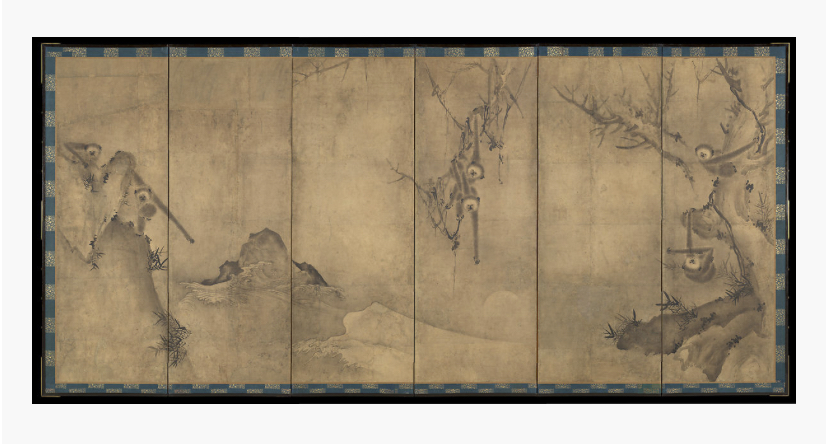 Sesson Shūkei 雪村周継 (ca. 1504–uca. 1589)
"Japanese Zen monks treasured pictures of gibbons painted by the Chinese monk-painter Muqi (active ca. 1250–80), which Muqi's colleagues first carried to Japan in the late thirteenth century. By the late fifteenth century, images of the animals in the manner of Muqi had become a favored subject for large-scale painting programs.
In this pair of screens, showing a uniquely Japanese interpretation of Muqi's style, a chain of gibbons tries to grasp the reflection of the moon in the water below—a futile effort that in Zen signifies the delusions of the unawakened mind. Sesson, a learned and prolific Zen monk-artist, studied a wide array of earlier Chinese ink styles and played a major role in the development of a distinctive Japanese form of Zen-inspired ink painting."
-Metmuseum.org
This painting by artist Sesson was in my mind when we set off for Costa Rica at the beginning of 2022. It's been a while since I did any sumi ink painting, so I always like to get fueled with inspiration when I am rusty with a particular technique. Zen mind, beginners mind – Suzuki Roshi.
Whenever I travel (without my oil paints) my preferred materials include a small jar of black sumi ink, 1 or 2 bamboo calligraphy brushes, archival water color paper or rice paper, and an empty jar for collecting water on site. For the seasoned plein air oil painter this feels like you are carrying close to nothing!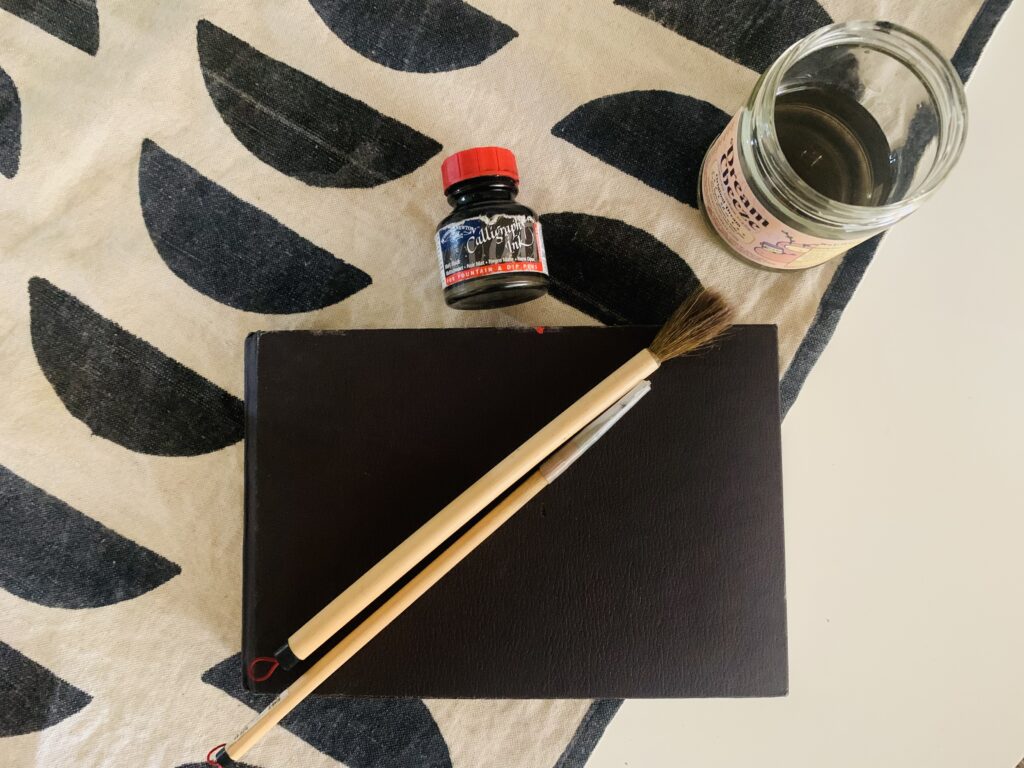 What i enjoy about ink painting is the idea that you are only capturing what is essential in the scene. A few brush marks may convey the entire essence of the landscape or subject at hand. It is a challenge for me to simplify to this degree, which is why it makes for good study. The importance of value and composition are also at the forefront, which is the foundation of any masterful oil painting. It is rewarding to find beauty in the structure-less, to see a fullness within the emptiness of the page.
Japanese sumi ink painting and Chinese calligraphy are ancient forms of expression…there is a looseness, simplicity, and ethereal quality that I have always been drawn to. My appreciation for this style of painting is what I believe first attracted me to Zen Buddhism when I first set on the path of discovering spirituality.
It only seems fitting, that one of the first times i hung out with my now significant other Charles, he handed me the book "Being Peace" by Thich Nhat Hanh, Zen Vietnamese Buddhist Monk and recently living master, who has actually passed away (or as his disciples would say, transitioned) on the day that I am writing this. Thay was also a very talented calligraphy artist, who's short and simple phrases he painted in the middle of a circle.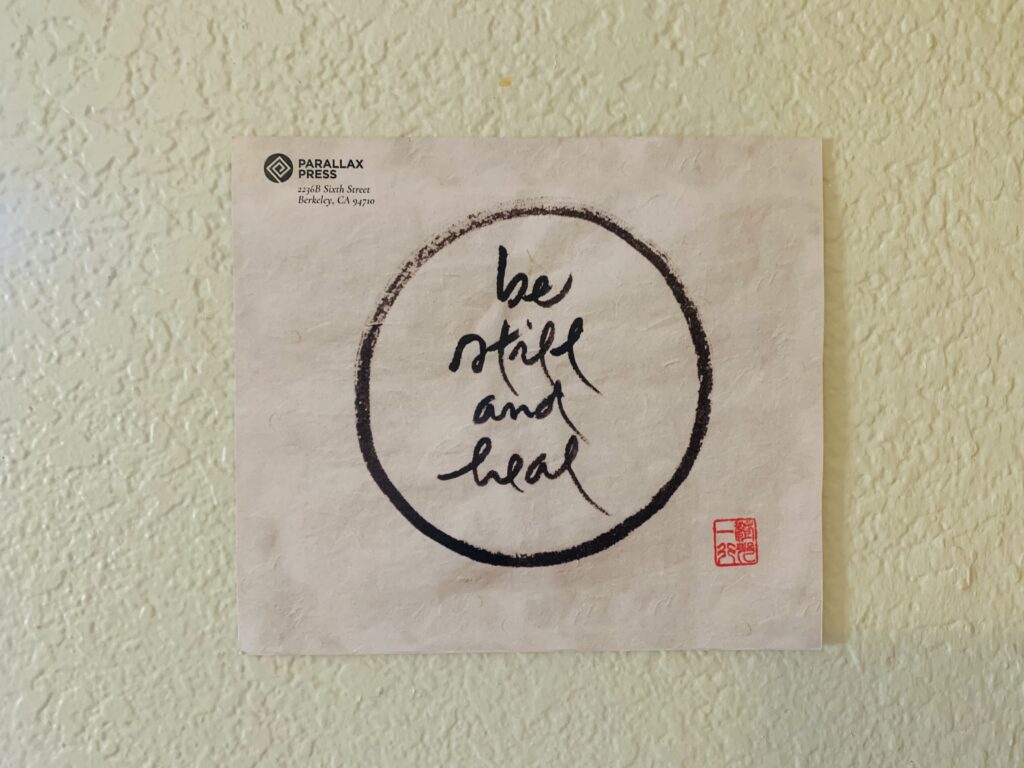 My aunt Beth, whom I love deeply and who is also an artist, gifted me a small accordion style handmade book with rice paper pages. I filled this book with ink paintings and phrases from my first Buddhist retreat at Thich Nhat Hanh's monastery in New York State, Blue Cliff. One of my earliest blog posts is about this experience and ink painting.
A favorite contemporary artist, Alex Kanevsky, is also inspired by ink painting, Chinese calligraphy, and scrolls. He critiqued my work in college, and is also a professor at the same art school, Philadelphia, where my aunt got her masters degree in fine art. The paintings of Alex certainly show the simplistic and timeless nature of these influences. Something I strive to create more of in my own work. The interconnected ness of it all truly makes me feel like there is a more divine plan and unfolding. The beautiful connections and inter being. The blurring of reality, the shifting planes of evolution, the illustration of impermenace.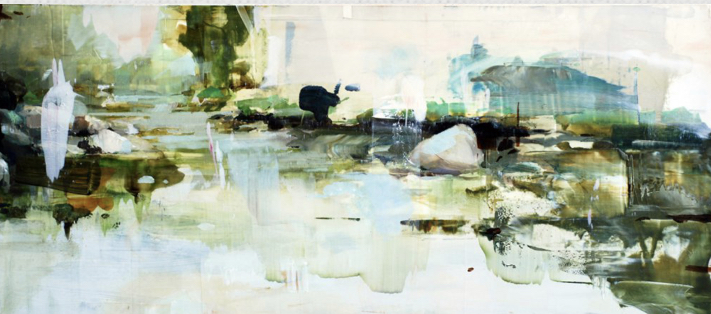 So after this long winded introduction to my experiences with sumi ink, I wanted to share some snap shots of where I was and what I painted on the Nicoya penninsula, Costa Rica. I wouldn't say that these paintings are ones I would ever put in a portfolio or gallery. They are purely sketches. Trying to get reacquainted with the medium and deepen my sense of new landscapes. They very much have the quality of thumbnails, sometimes clumsy and imperfect. But all of it is apart of the process. And imperfection is valued in Japanese culture, even coveted in some regards.