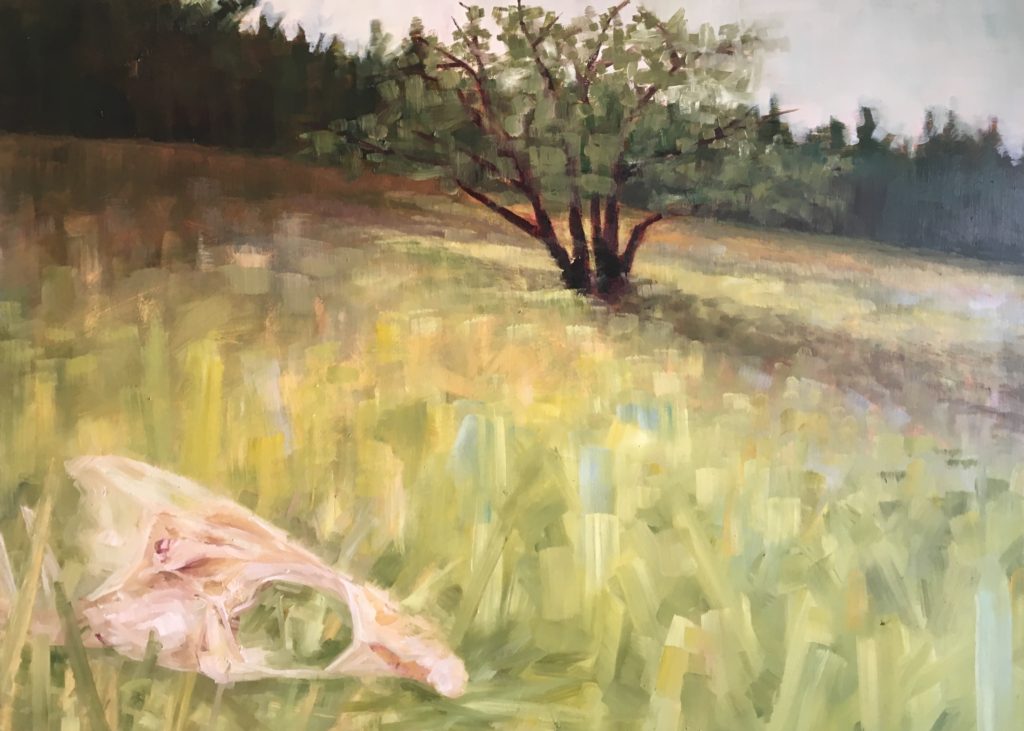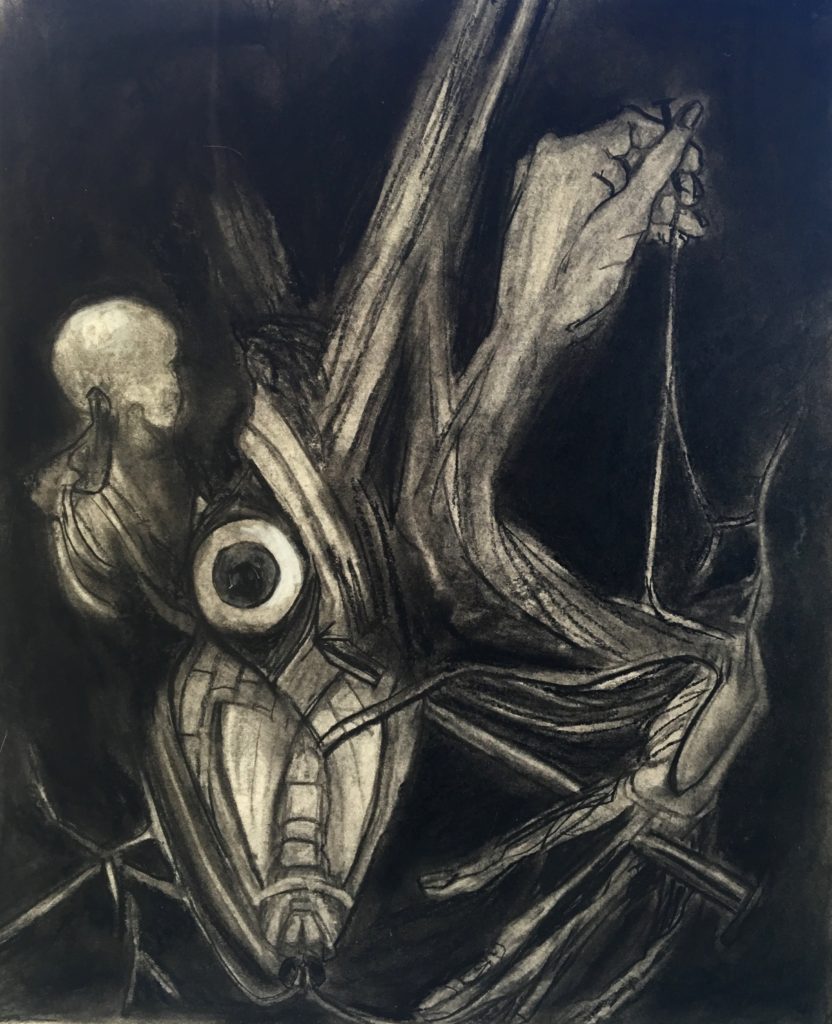 I believe May 18th marks the actual day Charles and I left our home in Vermont to travel the country in our van.
It was profoundly exciting and painful all at the same time. We left behind our home; the organic farm where we had lived and worked for about three years. We left behind the fields we had helped to cultivate, the farmers with whom felt like family, the yurt that contained all of our things and our energies, the farm cat Merlin who lived with us for two years and slept in our loft bed every night, all of our friends that we had made in the community of Worcester and Montpelier, Vermont, the maple sugarbush Charles was apart since the beginning, and the local artists gallery that I exhibited with monthly and participated in for years. We left behind the retreat homestead where we first met, where we had started our own individual healing paths. We left behind family, too, as many relatives lived close by. We left behind the Worcester Mountain Range, a view that really became the scenic backdrop to our lives, our simple and lovely reality.
Something I didn't weigh too heavily in mind was also leaving behind an art practice that has been with me for years…which is painting large scale, painting indoors, and occasionally playing with different subject matter or styles. As an artist I tend to jump around a lot, which is great, but I never truly understood the significance of painting with the same process day in and day out for a long period of time. Its funny that this reflection comes up after exactly one whole year of exclusively painting "en plein air" in "wilderness" areas.
I read a blog post in a fine art newsletter that I got in my email a couple months ago. This obviously stuck with me somewhere in the recesses of my mind.
I think the theme of the piece was emphasizing quantity in painting vs. quality…but I remembered that this artist painted a pond near his house for 366 days, from the same spot, but at different times of day and throughout all the seasons. He created a book to illustrate this experience: REFLECTIONS ON A POND – A Visual Journal by Kevin Macpherson. The visual journal is extraordinary and beautiful, as well as his written reflections.
"Over a four-year period, he came to see the pond as both a complex physiological phenomenon as well as a psychological experience that can only be appreciated in viewing the series as a whole. In seeing as an artist, Macpherson shows the viewer both continuity and change – a state of constant becoming, as opposed to being…. Life as a process of time.
But this is not simply a series about seeing as an artist. There can be no translation of the visual experience without feeling. Intermixed within Macpherson's eye is his heart. Emotions emerge in the paintings and are echoed in his commentary. Changes in the pond became a metaphor for changes in his personal life and in life surrounding him: a heart attack in the family, the death of his companion cat, doubts about his career, the joy of friendships, anger over a neighbor's ruthless tree cutting."
My own personal journey of painting plein air, outdoors on site, for one year, has allowed me to dive deeper into painting in general. My focus has obviously been on seeing, and not painting from memory, photographs, or any subject matter other than landscapes at the edge of the wilderness or the backcountry. What's unique is the idea that these plein air paintings serve as a kind of diary of my trip, of our travels, of my experiences hiking and navigating throughout the wild.
At times I've felt incredibly bored, dissatisfied with my work, tired of hauling my backpack around and not having adequate space to touch up or dry paintings. I wake up with the sudden urge to do a portrait from life (poor Charles!) or to print out a blurry picture of my travels on the road and make a 3 by 4 foot painting inspired by it. But somehow my discipline and love of this particular process…and my real inability to do anything BUT plein air painting at a small scale while living and traveling in the van, has helped me to grow tremendously in my craft. This year more than any other year since I graduated from art school, has been more about personal growth and observation than anything else.
In art school I did large scale oil paintings based on reference photos, color studies, drawings, and sometimes little plein air sketches. I would abstract them in an attempt to draw more attention to the mood of the scene and to the physical qualities of the oil paint. I liked Gerhard Richter and David Lynch. I was also in a much darker place emotionally in my life. In Vermont during my healing process from a traumatic accident, I experimented with incorporating symbolism into nature. I asked for the fish skeleton off another patients dinner plate so that I could incorporate it into a piece that I was working on. I took pictures of road kill and made paintings out of them, sometimes on surfaces that I found in the trash like sheetrock or an old framed broken mirror that looked like a tombstone. On the farm I was obsessed with painting the Worcester Range, but I was still doing a million other things and painting at various scales.
This year marks the first year, and the LONGEST amount of time that I've stayed with one process and one subject- which has been wilderness and wildlife refuge areas. In compassion to Macpherson's pond, clearly I could narrow in on my subject matter even further. One of my favorite artists, Alex Kanevsky, gave a lecture at my school, and talked about how he made dozens of paintings based on a single lit red apple emerging out of complete darkness. I've never been able to commit to something like that until now. In a way, I kind of felt intentionally "forced" into the plein air world, and in another way I feel like I'm just beginning to scratch the surface of something incredibly deep both within myself, within nature, and within history.
While the voice in my head rambles on and on about other ideas, I continue painting nature as much as I can, anywhere from 3 to 5 days a week. My goal is to paint 7 days a week with 2-3 sessions on the weekend. Its not easy. The amount of times I pack and unpack my painting gear starts to feel like "painting boot camp." I think all break throughs and growth have this level of consistency, repetition, and routine. Its like, when your doing pilates and you begin to feel the burn, you want to stop, right? But the feeling you get on the other side of that burn, that transformation that happens when you've developed a new muscle or skill and you're suddenly able to take your practice to the next level, you start to go places you never thought you'd go.
It takes a lot of courage to stick with something. You really have to face all the failures, challenges, insecurities, comparisons, and rejections that come with trying to master one thing. You have to let go of the other things you are interested in exploring. You have to really feel how far away you are from understanding "the essence" of something in particular. The more you do something, the more you realize how much you don't know. Commitment, in any aspect of life, makes you vulnerable, requires sacrifice. But the rewards are worth it.
So if you're feeling scattered or unmotivated, just keep going. Consider creating your very own "one year challenge." I have no intention of changing my practice right now. If this year has taught me anything, its that I'm no where near the plein air painter I'd like to be! So cheers to improving, growing, and creating every day.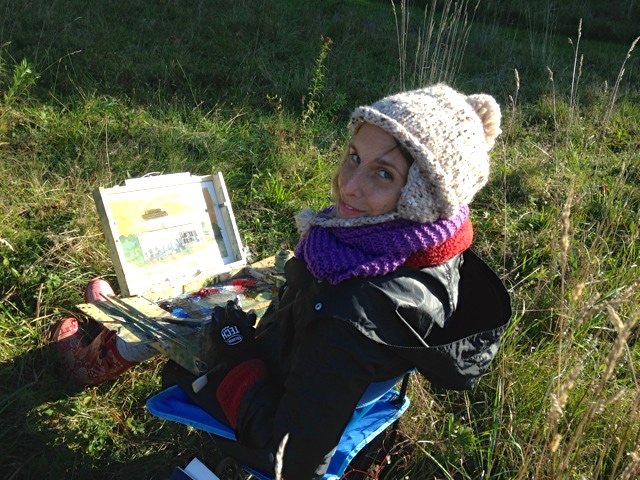 Did you know that I've created my own book, called Ecotones? Its about this very experience, painting national parks en plein air across the country. You can purchase the book on this website under the tab "available" or on my Etsy store! Not sure? I give a free reading, accessible on youtube.